What's On Your Hydro Flask?
Story and photos by Amilcar Perez Hernandez
When you think of college students, stickers may be the last thing that would pop into your mind. But surely enough, Hydro Flasks have brought us back to our elementary roots. All around campus, you'll find students lugging around their Hydros covered in stickers. Sometimes, there's just one sticker. Some follow a certain color scheme; others are a mix of both. But there is one thing they all share: Each Hydro Flask personifies its owner, showing the world who they are and what they love. Below are some of the flasks being lugged around campus. Although, it wouldn't be right if I didn't show off my own as well.
Amilcar Perez Hernandez, journalism major with a minor in web programming
If you couldn't tell by the picture, I have an itch for color coordination. I really loved the white flask, and I noticed that I had a lot of black stickers, so of course I plastered them all over it. I used to skate, so most of the stickers have to do with skate brands. However, the square one in the middle is the album cover from one of my favorite artists—"6 Feet Beneath the Moon" by King Krule.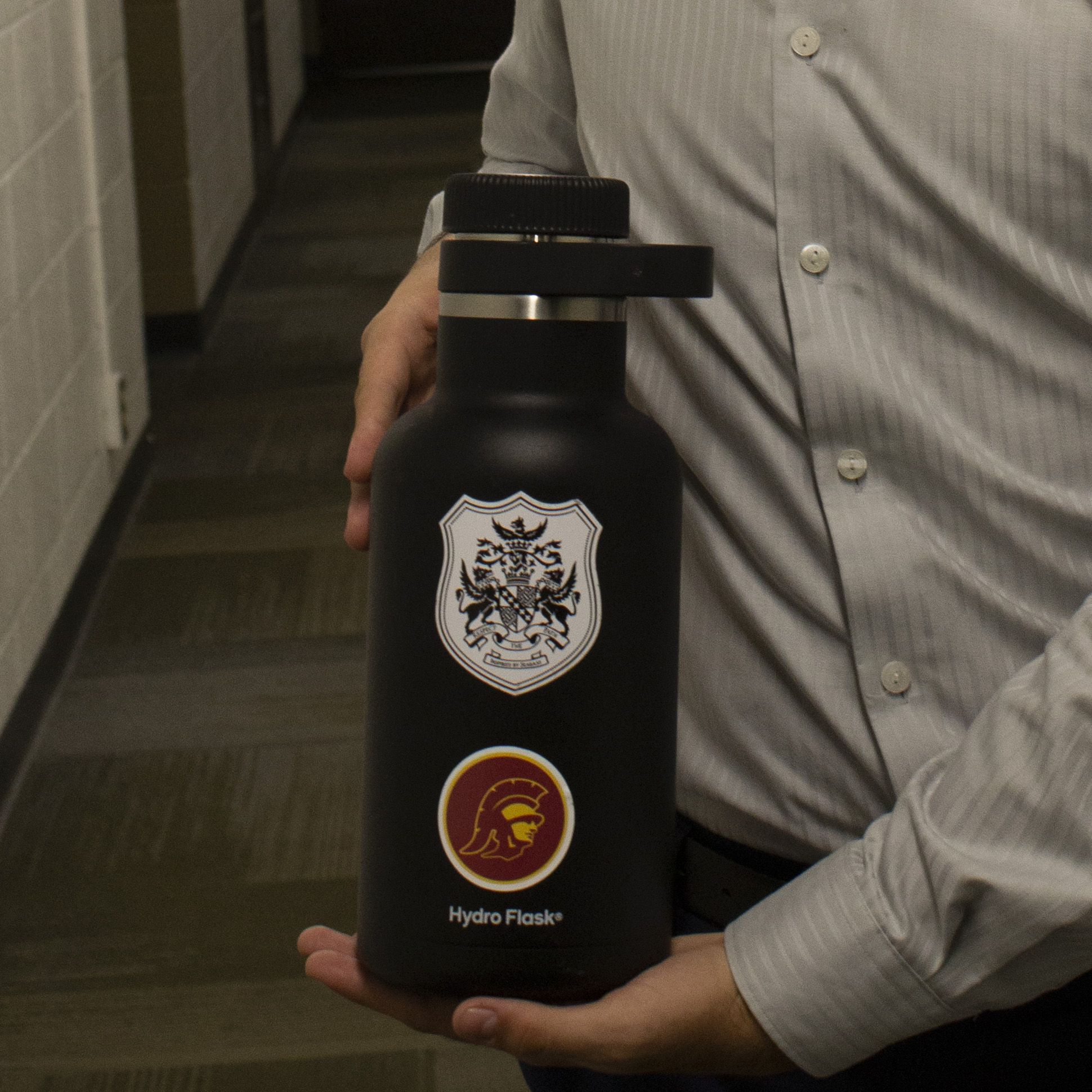 Samuel Ramirez, psychology major
"I follow college sports and USC is my favorite team. It's also where both of my parents graduated from, so that's why there are so many Trojan stickers on my Hydro Flask," says Ramirez. His flask is clearly one of a diehard fan dedicated specifically to one team. Though he did mention he added the black-and-white sticker on the back—which is from a golf company—just because it looked nice.
Grace Sledd, double major in music education and flute performance
"I've got the bottom guard so it protects it from chipping and the top handle was made by a friend."
Sometimes, simply following the color scheme of the flask is all you need. Grace's is an example of a simple mix of yellow accessories on the top and bottom to go with the blue flask, and one sticker right in the middle that easily identifies the school.