A Family Affair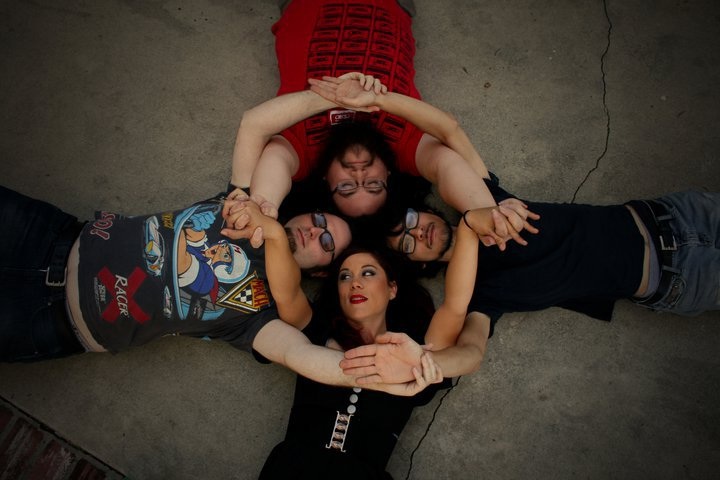 A large silver van pulls into the parking lot of La Cave restaurant and bar in Costa Mesa and the Terrapin, a Long Beach /Los Angeles-based band begins to unload their instruments onto rolling carts.  Bill Sanderson plays the bass, but he also has a creepy talent for impersonating old British women.  Lead singer Vanessa Lynn looks at Sanderson as if she's heard this a million times while the rest giggle through the chilly night air.  They act like siblings and for the many years they've been friends and band mates they kind of are.  It's St. Patrick's Day and Rufo Chan Jr., the drummer, seems to have a different energy about him than during an interview at the Coffee Bean and Tea Leaf at Cal State Long Beach.
***
            Dressed in a red T-shirt, black pinstriped blazer and scarf, Chan is a CSULB creative writing undergraduate.  Heavy ethereal pop is how he describes the sound of the Terrapin.  "Heavy in the sense that we're not playing metal for God's sakes," he says.  "The heaviness is in our intensity of our live performances."  The band enjoys very spacey music and that's where they get their psychedelic influences.  As for pop, the group is a fan of good catchy pop music.  "Pop doesn't have to be a dirty word," says Chan.  He claims playing music has a more physical catharsis to it than writing and notes it's also a lot louder.  The Terrapin have been playing for almost five years now and they had their humble beginnings in Long Beach.
"It was a bunch of different little things related to Long Beach," says Chan.  He and Lynn previously worked together in another band and talked about reuniting while watching bands at the Prospector here in Long Beach.  Terrapin guitarist, Alan Passman, a CSULB MFA graduate, met Chan through mutual friends and just so happened to be at the Prospector that same night.  Not long after they had their first jam session, Chan recalls thinking, "This is what we're going to do and that's that."  It was in their first on-stage performance that Bill Sanderson made his debut.  He was taking shots of Jagermeister on top of an already drunken condition and accidently hopped on stage with his saxophone on the wrong song.  Eventually he played at the right song and Chan says, "Bill has been with the band ever since."
***
            The stage at the La Cave is dimly lit with red lamps that make it look like a room in the red light district.  Vanessa Lynn takes off her green trench coat and reveals an extremely short white dress with shorts underneath and a large black belt cinches her small waist.  "I play keyboards and mess around with ambient effects with different pedals," Lynn says.  "For the past year and a half I have also been creating projection light shows on top of us."  While they didn't have a light show at that night's show, photos of it can be found on their Facebook fan page.  She also hopped off stage several times and danced with playful expressions.  "The music is weighty and intense and Vanessa isn't afraid to really interact with her audience while performing," says Lindsay Mancha, promotional advisor for the group and founder of Master Cat Promotions.  Lynn has also had type one diabetes since age nine and it effects her performances greatly if her blood sugar is not regulated.  She spoke lengthily of this hormonal tightrope and said she has inject insulin regularly.  Lynn almost looks as though she's in character as she sings, her body an anchor for the lyrics.
A majority of their musical themes have to do with relationships and not just the boy-meets-girl variety.  "I think it's the larger relationships that we have as people to each other," says Chan.  In the Terrapin, there isn't one designated songwriter, they all write together in the practice space.  Chan and Passman's creative writing background comes through during these stages.  "Some initial spark that'll cause one of the other members to all of a sudden pick up on it and next thing you know we'll be riffing off that groove," says Chan.
After the show, Rufo had two pints of Guinness while talking shop with Mancha.  Sanderson was antsy due to his alcohol level or possibly just his character.  He twirled his beard between his thumb and forefinger and talked about how he enjoyed keeping up with current events.  Passman has published a book of collected poetry entitled "Pop Monger" and spoke of plans to publish another in the coming months.
***
            The group plans to release their second EP, "Inner Machine," this year on vinyl and digital formats.  Through a Kick Starter campaign that helps up and coming bands fund their record releases, the Terrapin hope to press 300 albums for selling, record store distributions and as part of a press kit for various labels.  In the unpredictable music realm, the group, like many others, has to utilize social media like MySpace, Facebook, and blogs as a means to connect with audiences.  Mancha says, "I love that they don't shy away from challenging audiences."  Back in January, music director Dave Freeman booked the group for a residency at Casey's Pub in Los Angeles.  "It was absolutely great.  As soon as their residency was done there were already people asking when are they playing again and when are they coming back," says an ecstatic Freeman.  He also says he would love to have the group back for their record release party.
***
            That's what the Terrapin do, they unload their silver van, load it back up with the instruments they hammered and strummed only minutes ago and yell wildly in a rush of adrenaline.  Chan lectured Lynn about her disappearance before the show in her search for sugary sustenance alone and told her like a younger sibling how she should've had someone with her especially so late at night.  Lynn only glared at him, but eventually apologized and they were back to being a happy family once again.  A very different Chan was present this cold St. Patrick's Day night than the calm and well-spoken one earlier in the day.  He's living proof of the catharsis music playing can bring and in his wild-eyed excitement it's hard not to groove off his energy.