It's imperative to understand that Uber estimate cost tools are only sometimes 100% accurate. As a matter of fact, some of them are inaccurate because of incorrect data gathered. So, in this article, we'll go over a few critical things in determining the cost of your Uber!
Before we begin, let us first deep dive into the variables that make Uber prices correct. How does each fare estimate work? How is it computed?
How Much Does Uber Cost? Get an Uber Fare Estimate & See the Prices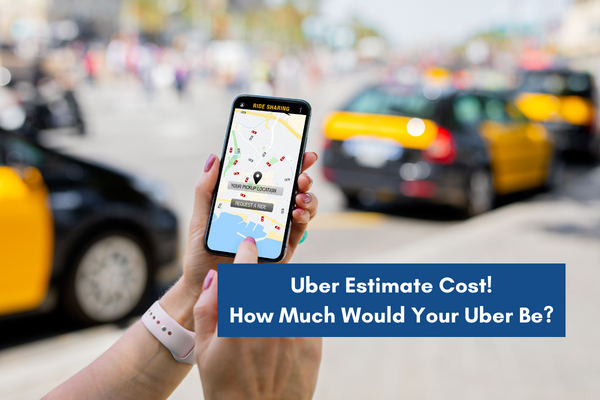 The primary reason Uber fare calculator tools are present is for Uber clients not to guess how much they need to get a ride using the Uber platform. But before using an Uber estimate tool, it's imperative that customers like you know and understand how Uber calculates the fare estimate.
In doing so, the price estimate usually comprises different factors and variables that allow the company to have a fair and accurate estimated price. Let's take a look at the components and variables in pricing.
Uber Estimated Fare Pricing Variables
Many people think that Uber drivers price these rides, which is totally incorrect. So, in case you were wondering what the variables are in pricing an Uber ride, here are the factors:
Base Fare
The base fare is mandatory. It is standard to all Uber services regardless of region, city, or country. It's the default flat fee or fare for the service they get, which, in this case, is for a passenger.
Ride Type (Uber Service)
In addition to the base fare, the Uber ride type is also a potent variable in determining the estimate of your Uber fare. As we all know, Uber has many different services that vary in type — there are the usual ones like UberX and Uber XL, but there are the luxury ones like Uber Lux or Uber Black/Uber Black SUV, which are more expensive.
Ride Distance
The distance is not only crucial information for an Uber driver, but it's also a great indicator of price for the company, too. You see, the distance of travel is one of the main factors of how much your Uber fare estimate will be. Imagine traveling 20 miles; would a $10-fare be enough to cover that?
Time and Date
Distance dictates the length of the journey, but the amount of time you spend in your Uber is also a factor. Furthermore, the time in which you book also has a direct correlation with the price — it's typically per minute that you are in the vehicle.
For instance, if you book during peak hours, there is a possibility of surge pricing, which will incur a higher fee due to the demand. On the flip side, it can be cheaper if you book at non-peak hours.
The same idea applies to the date. Holidays usually have surge pricing because of demand and how Uber drivers are willing to sacrifice their holidays.
NOTE: This is one of the things that an Uber fare calculator might not be able to consider since varying areas have different holidays and occasions.
Uber Fees and Other Misc Fees
Last but most definitely not least are Uber fees. These are fees that Uber has, which is approximately 25% to cover administrative costs; 75% goes to the driver.
Furthermore, there are other things to consider that could add up to this, such as:
Airport Fees
Highway and Toll Fees
Service Fees
Cancelation Fees
NOTE: That still doesn't include surge pricing or when the demand is higher than what's common or expected. We'll talk more about that surge in the latter part of this guide.
How is an Uber Trip or Uber Service Calculated?
The relevance of knowing the variables or the components of pricing is because they're what Uber uses to compute for a ride. Now, let's take a look at the equation or formula of how an Uber fare is calculated.
The general idea of the formula is that it will compute the time and distance, adding the other factors.
(Base Fare + Time Taken + Total Distance) x Surge Multiplier) + Other Fees = Final Uber Fare
You see, the pickup location spots matter in relation to the destination or drop-off locations. They're the beef of Uber fares. However, the surge pricing plus other miscellaneous fees need also to be part of the equation, too.
An Uber fare will also be more likely to be different across services. This means an Uber X service will be different from an Uber Black, Uber Select, etc.
Different Uber Fares: Estimated Fares Across Different Uber Services
Following that, there are actual differences in Uber fares depending on service or type. You can check the Uber website out for a live fare estimator, but here's the general idea of how each of the primary services costs.
Uber X: $0.80 per mile, $0.28 per minute, Base Fare – $0, Minimum Fare – $6.50
Uber Comfort: $0.92 per mile, $0.38 per minute, Base Fare – $0, Minimum Fare – $10
Uber XL: $1.61 per mile, $0.30 per minute, Base Fare – $1, Minimum Fare – $9
Uber Select: $1.90 per mile, $0.60 per minute, Base Fare – $5, Minimum Charge- $12
Uber Black: $2.92 per mile, $0.71 per minute, Base Fare – $8.75, Minimum Charge – $15.75
Uber Black SUV: $3.76 per mile, $0.75 per minute, Base Fare – $15.75, Minimum Fare – $25.75
NOTE: This is the average from this year's first quarter. Every city has a different price estimate because the contributing factors are different, too.
What is the Uber Fare Estimator?
It's an Uber estimate tool that helps customers have a glimpse of how much they need to pay when they request a ride. The tool is a built-in one that they can use before getting a service they wish to use.
As per the company, the price estimator factors certain variables like traffic and the hour because other variables are constant. Thanks to this, passengers not only see the estimated time they'll use but also how much they'll be spending.
How Do You Use the Uber Fare Estimator?
To use the Uber fare calculator or estimator, follow these steps:
Uber Fare Calculator in the App
Open the app and sign into your account.
Type the pickup location (if you're not coming from your current location) and the destination or drop-off location.
Then, the price estimator will give you a list of the upfront pricing of the different services.
Uber Fare Calculator in the Website
Access the price estimate or the Uber fare calculator.
Type in the location on the Enter Pickup Location field and the destination to the Enter Destination one.
It'll then give you options for the different Uber services.
If you wouldn't be riding now, there's an option to do scheduled rides. It's also useful if cars or vehicles are in high demand.
What is Uber Surge Pricing?
Uber surge pricing is a "surge in the prices" when the demand for rides exceeds the number of available drivers nearby. One perfect example would be during rush hours or when a massive chunk of people go out and find Ubers, like at lunchtime, people going to the office, and people coming home.
Before, you couldn't see if there was a surge, but now you can detect a possible surge through the Uber app. Don't worry, you will see the upfront pricing on the Uber fare estimator whether a surge is happening or not.
Can You Schedule an Uber Trip
Yes, you can schedule an Uber trip in advance! The best part about it is that you wouldn't have to stress about not getting any cars on the day because you've been reserved.
However, don't expect Uber rates to drop just because you booked in advance. The price will most likely be the same, and the advantage you get is you won't run out of cars to book.
Uber is, if not the most popular and prominent tool in the rideshare industry. It is available in most cities and will usually be even during busy times. Take advantage of this Uber fare estimator to see if you'll be able to save money on your next trip!
FAQs
Still, have questions about your booking fee or the estimated price of your ride? Don't worry, neither us nor Uber expects you to get it! Nonetheless, here are a few of the most asked questions about the Uber's estimated cost!
How Much Does Uber Charge Per km?
Uber's per-mile or per-kilometer charge depends on the city or area. This, however, will have the same variables for where the pickup location is and conversely proportioned to the drop-off location. Nonetheless, there's no standard or exact computation because there is a price difference in each city.
Can You Pay Uber with Cash?
Yes, absolutely. Your options aren't limited only to a credit or debit card. You can make payments to your Uber driver via cash. To do this, you simply have to choose Cash as the payment method or option before you request a ride.
Can You Cash App an Uber?
Yes! Uber works with CashApp, so you don't have to worry about not getting your cards or not having cash any longer! To do so, go to your Uber app and go to payment methods. Link your CashApp to your account, and you'll be able to start using it! Uber usually releases promo codes for certain payment methods!
Can I Get an Uber Ride Without the Uber App?
Yes, you can get an Uber ride even if you don't have the Uber app, meaning even if you don't have an Uber account! You can do this by typing and dialing in 1-833-USE-UBER (873-8237). You may then choose to be connected to an English or Spanish-speaking customer care representative.
What is Uber Connect?
Uber Connect is one of the Uber services currently in demand right now. You can use the service to get an option that allows you to request a rider to send an item or a package for you. Just like how the standard Uber ride works, you have to book it from the pickup and select the drop-off location where to drop the package off to.
How Much Cheaper is Uber?
Uber worked its way and has proven its cost-effectiveness in the market in many ways. For instance, catching an Uber is 40% more affordable than traditional taxis. Also, when compared to Lyft rides, Uber rides (standard distance) are cheaper, too!
How Much Does Uber Cost Per Minute?
Like the charge per distance, there isn't a standard "per minute" cost that Uber customers can bank on. However, the average per-minute pricing for an Uber ride is $0.40 per minute. Some areas and cities charge $0.09 per minute, some $0.20, etc.
Final Thoughts
Using an Uber estimate cost tool is essential, especially if you want to know whether catching one is cheaper compared to a taxi. Use the Uber fare estimator either on the Uber app or the website and be prepared for the fees that go along with it.