The reason why there's an Uber Black car list is because of the exclusivity of the service. I mean, why go for Uber Black if you can book a regular Uber instead?
So, in this guide, we'll dive deep into knowing and understanding what Uber Black is, the vehicle models allowed, vehicle requirements, and literally everything you need to know before you start Uber Black!
What is Uber Black?
Uber Black is one of Uber's on-demand services. Out of all Uber services, this is the ride of your life — at least, it was mine! In a nutshell, Uber Black is the service that sends forth luxury vehicles with professional drivers to assist you.
Many people consider Uber Black this "unnecessary" service because its only purpose is luxury. Well, I thought differently. From what I've experienced, Uber Black is the service we all want — we get a professional, well-trained, and high-quality driver, we get a ride out of a luxury car, and our overall experience will be top-notch.
Read More: On-Demand Success: Discover the Top 9+ Gig Apps and Their Reviews
UberX, UberXL, or Uber Comfort?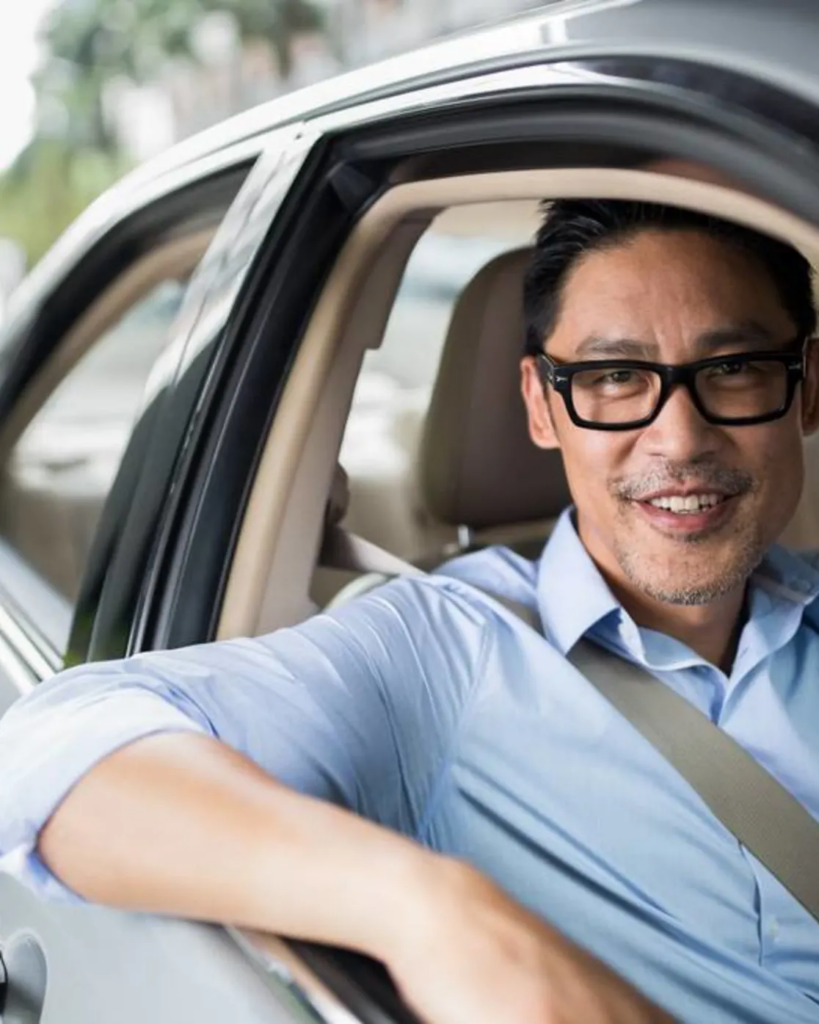 Upon opening the Uber app, you'll see many different services. So how are UberX, XL, and Uber Comfort different or the same as Uber Black and Uber Black SUV? For further understanding, let's look at what they are individually.
UberX is the most popular option for riders, and newer modern cars actually qualify for it. UberXL, from the term alone, is the larger version of UberX. It can accommodate more passengers, which, of course, means having higher fares.
Lastly, Uber Comfort is the type of service in the Uber platform focused on doing one thing — making sure that passengers ride comfortably and conveniently.
NOTE: For Uber Comfort, vehicles with more legroom than smaller compact cars are eligible for X, which meets the minimum vehicle year requirement.
What's Special About Uber Black?
What else does Uber Black have besides the luxurious feeling of being in an expensive car? For one, the premium service will undoubtedly astound you. From riding a highly expensive car to getting excellent customer service, you'll want to try it out again.
For the benefit of everyone, here are a few of the perks and benefits of choosing this service in the Uber platform:
Perk #1: Professionalism
Uber Black drivers aren't your regular drivers for UberX or taxi cabs. For one, an Uber Black driver would have been filtered and carefully chosen from a pool of aspirants.
Think of it like this — Uber Black drivers are like limo drivers. They're professional, polite, and absolutely well-mannered.
Say goodbye to frustrations along the way because this is the best service you can get!
Perk #2: Better and Enhanced Safety
One thing to note about Uber Black drivers is that they will always 100% have a Commercial Driver's License or a CDL. What this entails is they've undergone background checking than most drivers.
And don't get me started on how these drivers get their CDLs; it's a long, extensive, and careful process, which simply means that your safety and security will be their number one priority.
I mean, they know that people expect a good-quality ride from them already, so your safety and comfort will be what they would usually focus on.
Perk #3: Preferences
I don't know about you, but most people don't want their Uber driver to be talkative after a long day of work. That's one of the extraordinary things about Uber Black or Uber Black SUV! Customers or riders can actually choose how they want their ride to be in terms of their driver.
For instance, customers can set the temperature, can choose the conversation level they want their drivers to have, and also set baggage assistance or help, if there's any.
Perk #4: Premium Support Access
Another perk would be customer service. And while Uber already has good-quality customer support, imagine the level of intricacy Uber Black and Uber Black SUV has.
Whether you are on your way, waiting for your ride, or booking, Uber Black's A-class support team will be right with you.
NOTE: In case you didn't know, Uber's phone support is exclusive to drivers. But, with Uber Black, you have the chance to talk to a representative over the phone.
Perk #5: More Flexible Rides
And the last on this list is flexibility. Uber Black's service is so on-demand that you can schedule a ride ahead of time. Yes, you can make a reservation, so you're sure that you have a car to ride on a specific date.
In addition, Uber Black drivers are aware that the waiting time is 15 minutes versus the five minutes you get with UberX.
You'll get the taste of luxury and world-class service with Uber Black!
Uber Black Car List: What You Can Expect
Just like UberX, Uber Black's vehicle models in motion vary from one country and city to another. However, there are quite a few vehicle requirements professional drivers need to know for them to see if they're eligible to operate under Uber Black.
As per the company, the requirements for Uber Black consist of three different categories:
Vehicle Requirements
There are only specific vehicle models that the company accepts for this service. Generally, though:
The vehicle should be six years old at the maximum and;
Must have a black leather or vegan leather interior to qualify
Rating Requirements
Uber Black is known for its premium feel. So, they also make sure that the ratings of the drivers and their vehicles are on point.
An Uber Black driver must have a 4.85-star rating or above to maintain eligibility. This minimum star rating is based on the most recent 500-rated trips.
Documents Needed
And to top things off, there are a few types of documentation required in order to be eligible to drive for Uber Black.
According to the company, all Uber Black drivers must be professional drivers that have all permits needed to operate a vehicle in the area or city.
NOTE: These permits are different per city and per state, so, check out what your area has as requirements!
Moreover, they should have an auto commercial insurance, too (personal auto insurance wouldn't be considered).
The exact car models will vary from one city to another. But I'm going to give you an example of the cars that are eligible to be on Uber Black.
Volvo: XC90, S90
Mercedes Benz: GL-Class, GLE-Class, GLS-Class, M-Class, E-Class, and S-Class
Maserati: Quattroporte
Lincoln: Navigator, MKT, and Continental
Lexus: GS, LS, GX, and LX
Infiniti: QX56, QX80
GMC: Yukon, Denali, XL, and XL Denali
Genesis: G90
Cadillac, XTS, CT6, Escalade, and Escalade ESV
Tesla: Model X and Model S
BMW: 5-series and 7-series
Chevrolet: Tahoe and Suburban
Ford: Explorer and Expedition
Audi: A6, A8, and A8L
Some cars like the Mercedes Benz E-Class Wagon, the Range Rover Evoque, the Santa Fe Sport, and others of the like may or may not be accepted for Uber Black. However, you can register them for UberX Luxury or UberLUX.
NOTE: These Uber car requirements are only examples. For registration, Uber accepts cars if they meet what they're required for the Uber Black driver, as well as the minimum vehicle year requirement — plus, of course, the quality of the vehicle.
For the list of the cars usable for Uber Black, Uber Black SUV, Uber SUV, or any of the Uber services, check out their eligibility page.
I quote that this will depend on other factors, like legroom, driver rating, interior color, etc. So, not just because you own a Range Rover Sport, Lexus, Jaguar, or any other S-class luxury car, mean that you'll automatically be accepted for Uber Black.
The eligibility for Uber Black, Uber Comfort, Uber Comfort Electric, and Uber Premier options also depends on driver rating and other factors. The factors are legroom and exterior/interior color, among others. Contact Uber Support or your local Greenlight Hub for more information. Ride option availability varies by city."
Read More: From Gig Economy to Global Success: The 6 Ultimate Websites for Freelancers
Uber Black vs. Uber Black SUV: How Are They Different?
Since we know that Uber Black is a premium service, how is it different from the Uber Black SUV? Well, to answer it in the shortest and fastest way possible, Uber Black SUV is just like UberXL to UberX.
Vehicles are bigger, and they're usually able to accommodate six passengers. It's basically Uber Black, but bigger, have more legroom, and is up for a smoother ride.
How Does Uber Black and Uber Black SUV Work?
Don't confuse yourself; both work the same way as to how other Uber services work. It's just that you can schedule and reserve a ride in advance to assure you that you will have a vehicle on the date and time you reserved it.
They're all the same in the point that the company doesn't allow either salvaged or rebuilt vehicles, has no commercial branding, and must be in good condition (no cosmetic damage).
Check out your city or area's requirements for UberX, XL, Uber Comfort, Uber Black, and Uber Black SUV.
So those are the things you want to consider! If you're interested in applying and working for Uber, head to the Uber platform and start your application there!
Read More Here: From A to Z: The Complete Guide to Airbnb Long-Term Rentals for Hosts and Guests
FAQs
In case you have more questions about Uber Black and its eligibility, or if you're trying to find the perfect Uber service, here are some of the most frequently asked questions about it!
What is Different About Uber Black?
Uber Black is one of the many Uber services. They're different in terms of overall experience. Uber Black drivers are professional, the cars are well-maintained, and they exceed the typical vehicle requirements like how UberX and other services are. One of the main requirements is a vegan leather interior, and from that alone, luxury is at hand.
Do I Need a 4-Door Car?
Yes, in order to apply and be approved to be an Uber driver, you'll need a car with independently opening passenger doors. As per the company, the doors need to be closed and open from both the interior and exterior, with state and local laws insurance.
How Much Does Uber Black Cost?
The exact rates and prices for Uber Black are difficult to pinpoint, especially since the pricing is different per city. But, Uber gave out estimates of the pricing per service, and Uber Black sits at $17 to $21 for a 4.2-kilometer ride at 9 minutes. It's expensive, from UberX's $8 to $10 and Uber Select's $13 to $19. Take note, though, that these are just estimates! Check your Uber app out to know the cost in real time!
Uber Black XL Car List
Like Uber Black, there's no specific list of motor vehicles or cars for Uber Black XL. Cars or vehicles will also undergo necessary assessment and application to see if they're fit for Uber Black. Should they not pass, they'll just be for UberXL or Uber SUV.
To give you a few examples of the selected vehicles for Uber Black XL in most of the U.S., they are:
Lincoln Navigator
Cadillac Escalade
Audi Q7
BMW X7
Ford Expedition
And many more!
Check out the requirements for Uber Black XL to be 100% sure of what they are!
Is Uber Lux the Same as Uber Black?
No, it's not. While both of them offer unrelenting premium and world-class quality services, the majority of the market says that Uber Lux is better because all their drivers are top-rated, and you can choose from the best and most stylish vehicles available.
The Bottom Line
If you're looking for an article that outlines and gives you the Uber Black car list, this is perfect! While it's common knowledge that there aren't specific car models for this particular service, at least you know what's needed to be eligible for it.
Uber Black is a service tailored to provide customers with world-class-quality service. From choosing their preferences to scheduling and reserving rides in advance, you'll really want to try it again!