Do you know the accurate Uber XL seating capacity? Do you know its numbers, from the capacity to the overall pricing?
In this article, we will dive right into discussing Uber XL! Furthermore, you will learn everything about it from:
What Uber XL is
How an Uber XL vehicle compares to UberX and other Uber vehicles
What the requirements are
And many more!
What is Uber XL?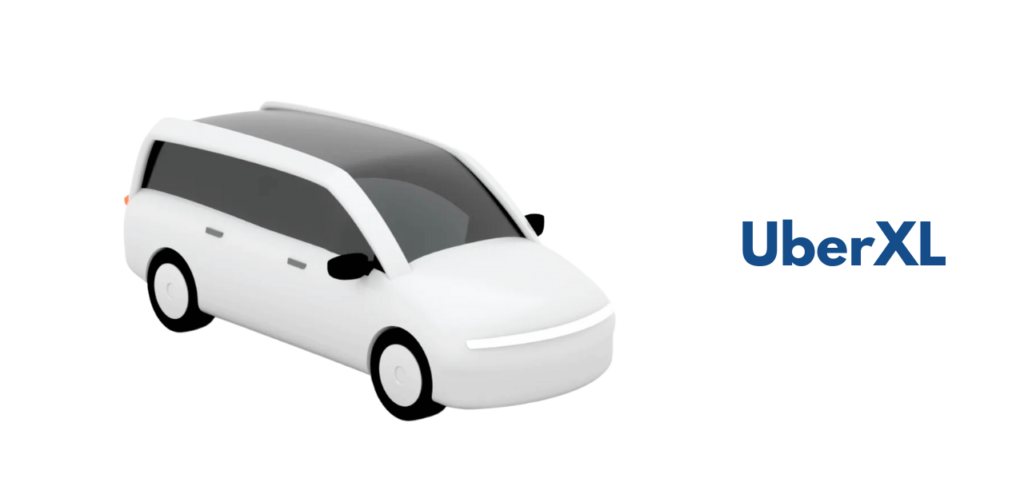 In a nutshell, Uber XL is an Uber service that can carry up to six passengers in total. This is half as big as the capacity of Uber X, which can only accommodate up to four passengers. I don't know about you, but when I read or heard about Uber XL, I immediately thought of colossal vehicles like trucks and the like.
As it turned out, it's just an Uber service that friends and families can use! Many
UberX vs. Uber Black/Uber Black SUV vs. UberXL Vehicles and Others!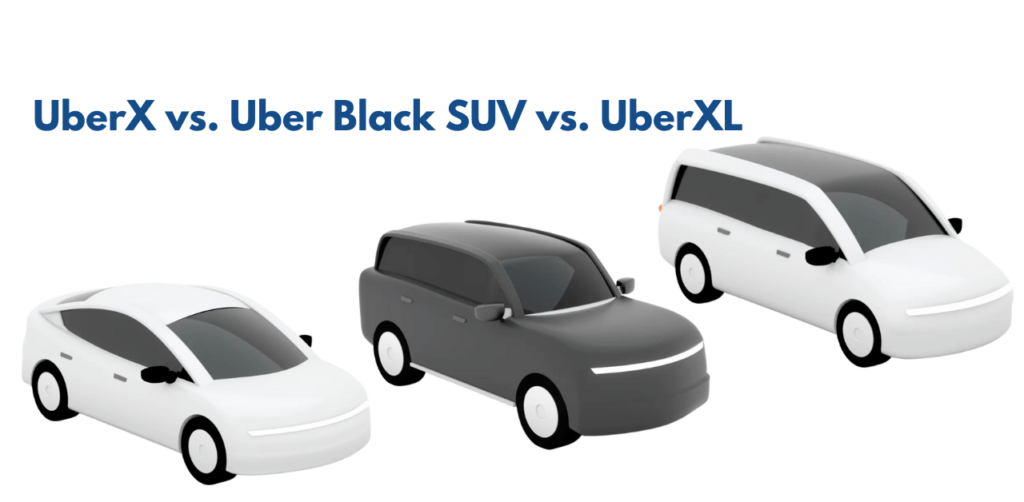 UberX and UberXL are among the most common Uber rides you can get. But how are they different? What's the difference between UberX vehicles and UberXL vehicles?
To answer that accurately, let's discuss what each of these Uber rides and services are. It's essential to understand how they work so you can maximize and take advantage of them in the best ways possible.
UberX
Probably the most-ridden, most popular, and most common Uber service. UberX is the economy option that is just like what taxi cabs are, except that they're a private driver and they've been assessed by Uber.
UberX cars and vehicles are typically 4-seater, and UberX drivers have pretty lower standards compared to luxury vehicles or options. Some of the more common UberX cars would be the Toyota Prius, Toyota Corolla, Hyundai Sonata, Toyota Camry, etc.
UberXL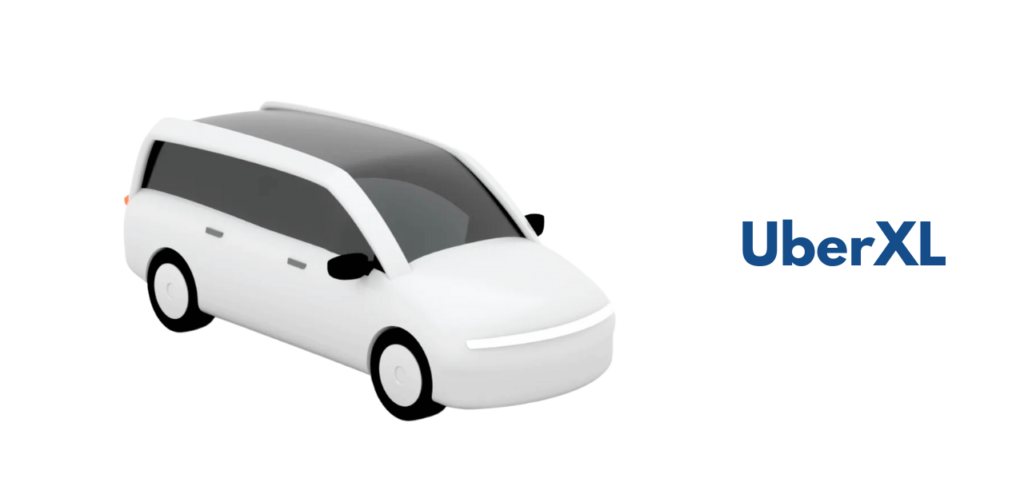 Following that, UberXL is among the other Uber services that are categorized to have more legroom. In a nutshell, an UberXL vehicle would be a larger vehicle that's designed to have a bigger and larger passenger capacity (maximum of six passengers).
Among the most common UberXL vehicles that are in circulation include: Kia Sorento, Hyundai Santa Fe, Ford Explorer, etc.
NOTE: These are just among the most common UberX and UberXL rides. This doesn't necessarily mean that Uber drivers are limited to these cars.
Uber Black and Uber Black SUV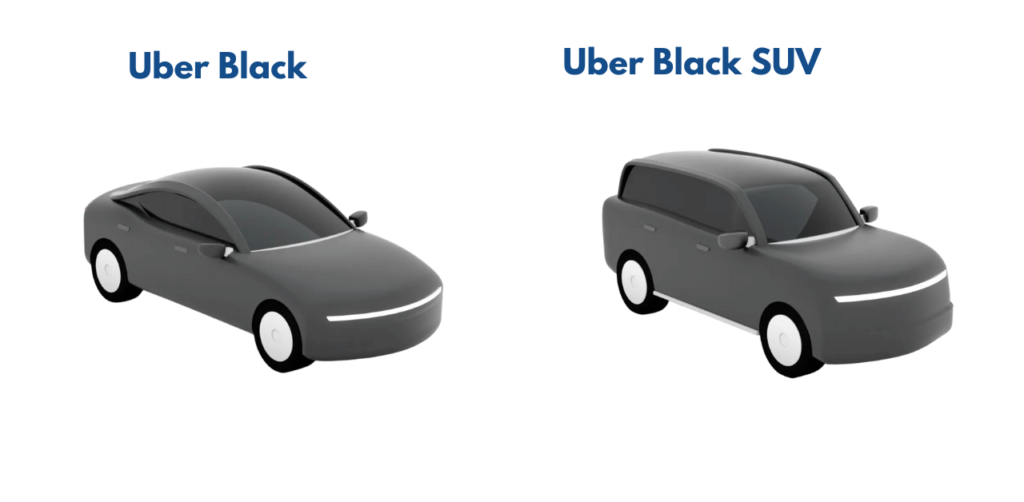 You'll see Uber Black and Uber Black SUV side-by-side in the Uber app. Apart from the "Black" category, these rides are a part of the luxury line by Uber. Premier cars along the lines of BMW, Tesla, Maserati, Audi, and others are the vehicles you will mostly see in this service.
Uber Green
From the term alone, Uber Green is the service that utilizes either a hybrid or electric car. What this Uber ride type promotes is low-emission vehicles. The goal is to transport customers from point A to point B without too much smoke or variable pollution.
Uber Select
Last but most definitely not least is Uber Select. Don't confuse yourself; Uber is a company that wants to provide luxury to its customers as much as it can, so they offer multiple and different tiers of luxury service.
Uber Select is Uber's entry-level luxury car selection. It's like Uber Black and Uber Black SUV but entry-level, so it's not as grand and extravagant.
What is Uber Pool?
UberPool is one of those ride types where you're able to share your Uber ride with other people. Regrettably, what we once known as UberPool has now been rebranded and remodified as UberX Share.
It's the same thing — once booked, you'll see your driver's picture on your phone. It's like a regular Uber; it's just a shared ride.
Why Use Uber XL?
Many Uber drivers recommend going for and using Uber XL simply because of the convenience it offers. But, besides convenience, UberXL vehicles (or the service alone) have benefits, which include:
UberXL vehicles or cars are typically colder since their engines are bigger
Of the many ride options, an Uber XL vehicle will be better because of its bigger body
You'll see that in the Uber app, UberXL rides have more promos and discounts
You can transport luggage and heavy things via UberXL vehicles
UberX and UberXL Vehicle Requirements
The requirements for both UberX and UberXL are different. Well, they're different services and ride types, so it would just be right that they have different requirements.
Generally speaking, all Uber vehicles have a requirement depending on whatever service they have. For UberX, the vehicle requirements should have at least five seats with four doors, while UberXL must have at least seven seats with four doors.
NOTE: +1 is because of the driver; UberX needs at least four seats for passengers and six seats for UberXL.
Those are the only general requirements. Here are also some of the requirements for each:
Newer or at least 16-year-old vehicle
Good condition
No physical or cosmetic damage
No commercial branding
Must pass a vehicle inspection
These are the standards for incoming Uber vehicles in Los Angeles. Most likely, this will apply to global Uber cars. But hey, just because a first-class city looks for this information doesn't mean you should aim for this. It'll always be best to inquire and ask Uber themselves about what their requirements are for the city or area you are in!
NOTE: You can check out the fundamental requirements here.
Uber Driver Requirements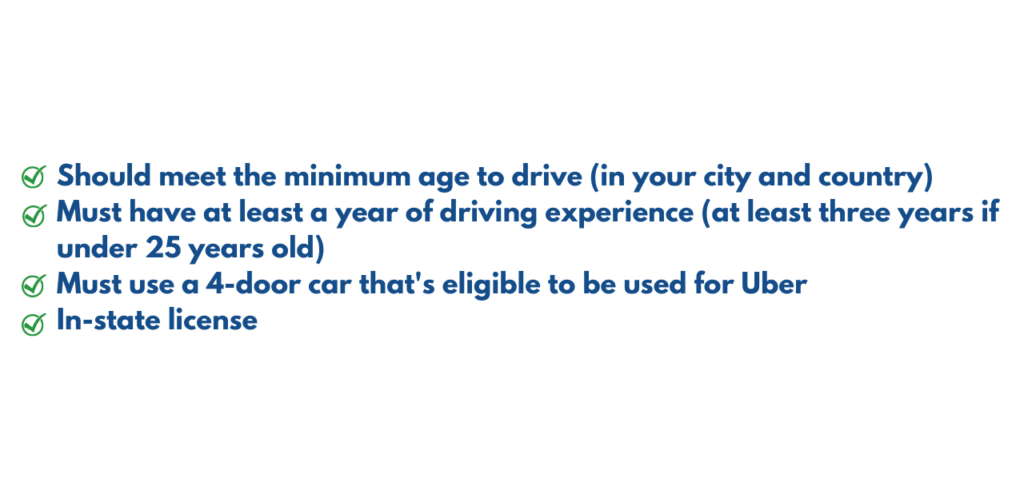 Apart from vehicle requirements, Uber would also need and require documentation and qualifications from the driver. For you to understand it better, we'll categorize it into two parts: minimum and required documents.
Minimum Requirements
Before a driver signs up, they must meet the minimum requirements:
Should meet the minimum age to drive (in your city and country)
Must have at least a year of driving experience (at least three years if under 25 years old)
Must use a 4-door car that's eligible to be used for Uber
In-state license
Required Documentation
Those minimum requirements, take note, are just "minimum." Besides those, Uber also has required documents for an aspiring driver to come in. They include:
Proof of vehicle insurance and residency in your area (city, province, or state)
Valid US driver's license
Profile photo of the driver
Screening Process
Drivers also must undergo a screening process online. This is typically done over the Internet, as Uber will review whether you have a criminal history or any driving record.
These are the minimum Uber driver requirements before people are accepted to drive for Uber. Missing one or any of these may lead to your application failing.
What is the Uber XL Seating Capacity?
The seating capacity of UberXL vehicles is only up to six passengers. Anything beyond that is either not allowed by local and state laws or they're unattainable.
If UberX has a seating capacity of four, UberXL has an additional two for a large group of people or for baggage or luggage.
Always remember that the maximum number of passengers is only six, nothing more. Having more than six can be considered a violation, but hey, if your customers.
How Much Are UberXL Rides?
Generally, UberXL costs higher and has a more premium rate than UberX for a variety of reasons. One of which is that it has more legroom, customers and riders will be more comfortable because of the bigger space, and they'll have no problems with the luggage.
In terms of pricing, UberXL costs higher in terms of dollars per distance than 4-seater cars and vehicles. It would be difficult and inaccurate if we were to have an estimate of how many trips are because it really varies.
The computation will be based on where you were picked up and the drop-off location. Car type isn't a part of the formula.
What Are Common UberXL Cars?
As much as we want to have the updated list of cars, it wouldn't be possible. Some cities have certain vehicles they consider standard, while there are some that don't even allow those.
However, based on the data we gathered and the people we talked and spoke to, the most common UberXL rides and vehicles are:
Ford Explorer
Hyundai Santa Fe
Kia Sorento
Honda Odyssey
Chevrolet Suburban
GMC Acadia
And Many More!
You can check out the list of the cars accepted to be a part of UberXL!
Can UberXL Drivers Get UberX Trips and Vice Versa?
Yes, absolutely! Some drivers who enroll and register for UberXL can also get UberX requests. I know what you're thinking; how does this happen? Well, this occurs when there are no rides or requests for UberXL, and there's an influx of UberX rides.
Therefore, even if you're registered to UberXL, you can still be a standard 4-seater vehicle or UberX. One thing that's off-putting, though, is the fact that even if drivers don't choose their ride type, whatever's been booked would be the rate.
For instance, if a customer or a rider books an UberX and their pickup location doesn't have an available vehicle, they could get an UberXL one if it's available.
However, if a customer books an UberXL and there are no big cars around, they won't be redirected to standard Uber X cars.
Furthermore, the UberXL cost wouldn't be billed. Instead, it'll be regular Uber X cost if this happens.
Is Uber SUV the Same as Uber XL?
Yes and no — let me explain.
If you ever hear your Uber driver say they're the same, don't be mad at them! It's partly true! It is just that Uber SUV is a shortcut term for Uber Black SUV, which is the luxury SUV offered in the Uber app.
An UberXL vehicle is just the typical or standard 6-seater vehicle that accommodates more than the regular Uber service, which is UberX.
So the discrepancy would be in the level of sophistication. Uber Black SUV is the premier or the better option.
FAQs:
What Are the Different Uber Services or Levels?
There are a lot — Uber actually improved and developed their previous ride-hailing service to a whole bunch of services and levels customers and clients can enjoy. That is why when you go on the Uber app, you'll see many options!
The most common Uber services, however, are:
UberX and UberX Share
Uber Green
UberXL
Uber Comfort
Uber Black and Uber Black SUV
Uber WAV
Can Seven Passengers Sit in UberXL Vehicles?
Unfortunately, an UberXL vehicle can only accommodate and carry up to six passengers, nothing more. If the people who will take the ride won't consume much of the space, you can try talking to your Uber driver about it.
Can I Apply as a Driver in the Uber App?
UberXL or not, applying as a driver is quite tricky. Difficult in terms of where you physically need to be. As how Uber positions it, Uber gives the best options in terms of application. Although applying through the Uber app is not an ordinary feat, you can use this and leverage it in order to make things faster and easier.
What is Uber Pet?
Contrary to popular belief, Uber Pet is not a type of Uber ride. Instead, it's an option that riders can toggle or turn on if they are going to be in transit. Evidently, this option allows riders to bring their pets with them inside the vehicle. Not all vehicles allow this, though, and take note; riders will have to pay extra money as pets would require extra space; drivers would need to keep their cars clean, too!
What Are the UberXL Vehicles or Cars?
These are typically SUVs or 6-seaters in order to accommodate up to six passengers on board. Besides being used for a large group of people, this Uber ride type is also useful if you have luggage or transporting large goods. So, if you have an SUV or a 6-seater car that passes Uber requirements, you're in for a treat!
Uber has this UberXL Car List that you can check out to see the list of available cars for the Uber service. However, eligibility will depend on a few factors. So how do vehicles qualify? I'm just not too sure if a vehicle inspection will take place, but there are certain things Uber requires from the aspiring Uber driver.
The Bottom Line
Knowing and understanding the Uber XL seating capacity is important not just for the comfort of your Uber ride but also for making sure that you're following rules and protocols, too!
So, the next time you ride an Uber, select the best and fittest vehicle for your need!